CCIE has the qualification for overseas project contracting and labor dispatch and has won several bids abroad.

Unique Advantages of CCIE:
a master of national policies in various industries in China
* an expert in business cultures both at home and abroad
highly efficient decision-making mechanism
strong financing support
* abundant capital available
*strategic partner of SINOSURE、China Development Bank、EIBC (Export-Import Bank of China)
* a home to professional partners in various areas

Business Operation Modes:
CCIE participates in a bid or engages in bid negotiation directly. If the project capital has been allocated by the Owner abroad and the bidding is open, CCIE will participate in the bid or engage in bid negotiation directly.

CCIE helps our customers to provide necessary financing support for the Owner abroad. If the clients abroad have pretty promising projects but limited capital, CCIE can provide them necessary financing support through China Export and Credit Insurance Corporation, China Development Bank and the Export-Import Bank of China and take part in the design and construction of such projects.

CCIE invests in projects directly. For promising projects, if okay with our clients abroad, CCIE can partly or wholly invest in such projects.


To be specific, our cooperation with foreign clients usually takes in the form of BT, BOT, BOO, BOOT, EPC, EPCM, PPP and FEED etc.
* BT(Build ---- Transfer)
* BOT(Build-----Operation----Transfer)
* BOO ( Build ---- Own ---- Operate)
* BOOT ( Build ---- Own Operate ---- Transfer)
* EPC (Engineering ---- Procurement ---- Construction ) (Turn-key project)
* EPCM ( EPCM:Engineering procurement Construcion management)
* PPP ( Public-----Private partnership)
* FEED ( Front End Engineering Design)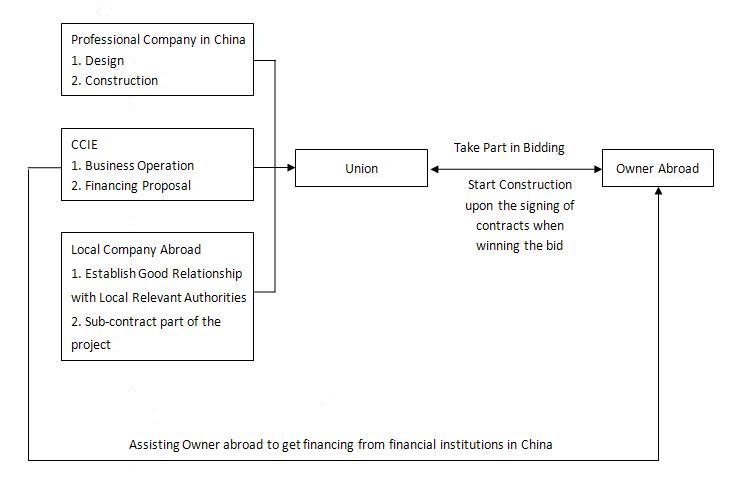 Industries Engaged:
real estate
railway
highway
bridges
water conservancy projects
cement plants
various kinds of power stations such as hydroelectric power station, thermal power station, garbage power plant, wind power station, and solar power station etc.